Scientific Drilling in the Samail Ophiolite, Sultanate of Oman
Project Acronym: OODP | State: Post Moratorium | Expedition ID: 5057
The Samail Ophiolite in Oman is composed of igneous crust and upper mantle formed at a submarine spreading center, via processes very similar to those at mid-ocean ridges today. Drilling will provide key data on the processes of melt extraction from the mantle, igneous accretion of oceanic crust, and hydrothermal modification of that crust. Drilling will also investigate present day alteration processes, their relationship to the deep biosphere, and their potential for acceleration to achieve carbon capture and storage via in situ mineral carbonation.
Keywords: Asia, Oman, Carbon Capture, Crust, Hydrothermal Alteration, Mantle
2018-02-20
Coring is complete! Four months, 1700 m drilled, 100% recovery.
2018-02-25
We are nearing the end of the final cored hole on a cloudy day in Wadi Lawayni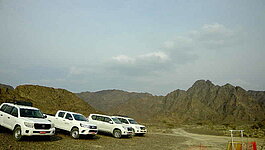 2018-02-21
A change of drill bit this afternoon gave us a little time to catch up and relax. We expect to reach 200m tomorrow. Meawhile the rotary hole at BA1C is complete to 400m today
2018-02-20

2018-02-25

2018-02-21
Previous
Next
Scientific Drilling in the Samail Ophiolite, Sultanate of Oman (OODP)
Geologic age:

cretaceous

Number of drillsites (drillholes):

10(16) 2018-Mar-06

Drilled length:

5150.0 m

Cored length:

3261 m

Core recovered, length:

3245.24 m

Core recovered length / Cored length:

99.52%

Core recovered / Drilled length:

63.01%
Drillsite Locations: Sultanate Oman
Coordinates: 22.5, 58.515
Please see map at bottom of page.
ICDP Project ID: ICDP-2014/03
ICDP Internal "Expedition" Identifier: 5057
ICDP Internal Database Identifier: 4338
ICDP Project Acronym: OODP
Google Maps
---
OODP Drillsite Location
Moratorium Phase 2
September 2018 - February 2021
Sampling Party Phase 2
5 July - 5 September 2018
Drilling Phase 2
13 November 2017 - 28 February 2018
Moratorium Phase 1
September 2017 - February 2020
Sampling Party Phase 1
15 July - 15 September 2017
Drilling Phase 1
1 January - 23 March 2017
Workshop Held
13 - 17 September 2012 in Palisades NY, USA
Workshop Proposal Approved
Workshop Held (IODP)
7 - 10 January 2011 in Muscat, Oman