Two Glacial-Interglacial Cycles (ca. 250,000 Years) of Climate and Ecosystem Dynamics on the East African Equator
Project Acronym: DeepCHALLA | State: Completed | Expedition ID: 5061
Long continental climate records from tropical and sub-tropical regions are crucial to resolve long-standing questions about the relative importance of tropical and high-latitude climate processes in translating external climate forcing into regional climate variability. The ICDP drilling project 'DeepCHALLA' is proposed to exploit the continuous sediment record of Lake Challa in easternmost equatorial Africa. Its principal objective is to acquire high-resolution and well-dated proxy data of continental climate and ecosystem change near the Equator, spanning a full glacial-interglacial cycle (150,000 years, covered by the uppermost ~100 m of Quaternary deposits).
Keywords: Africa, Kenya, Tanzania, Lake Challa, Kilimanjaro, Dynamics, Monsoons, Paleoclimate, Tropical Climate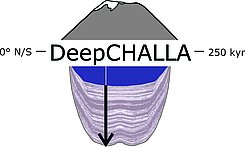 2016-12-20
Lacustrine sediment sequence down to 214.8 m recovered.
2016-11-08
The game is on!
2016-10-06
Drillrig in preparation.
2016-12-20

2016-11-14

MoD

MoD
Previous
Next
Sampling Party 2
12 - 22 June 2017 in Minneapolis, USA
Sampling Party 1
28 March - 14 April 2017 in Minneapolis, USA
Drilling
31 October - 20 December 2016
First Full Proposal Submitted
Workshop Held
10 - 14 September 2012 in Nairobi and Taveta, Kenya
Workshop Proposal Approved