Probing Reservoir Triggered Earthquakes at Koyna, India through Scientific Deep Drilling
Project Acronym: KOYNA | State: Post Moratorium | Expedition ID: 5058
The Koyna Dam located close to the west coast of India is the most outstanding example of Reservoir Triggered Seismicity RTS.
Triggered earthquakes have been occurring in a restricted area of 20x30 sq km since the impoundment of Shivajisagar Lake in 1962. These include the largest triggered earthquake of M~6.3 on Dec 10 1967, 22 earthquakes of M>5, about 200 earthquakes of M~4, and several thousand smaller earthquakes since 1962. The earthquake frequency increases every year following the monsoon rains in the months of June and July; almost every year one or more M~4 earthquakes occur. There is no other source of seismic activity within 50 km of the Koyna Dam.
Keywords: Asia, India, Deep Borehole Observatory, Koyna, Reservoir-triggered Seismicity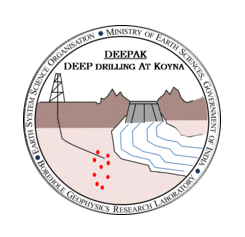 2017-06-19
Geophysical Logging in Progress
2017-06-11
Target Depth of 3014m Reached!
MoD

MoD

MoD
Previous
Next
Post Drilling Workshop
14 - 16 October 2017 in Pune, India
Drilling
20 December 2016 - 11 June 2017
Workshop 2 Held
16 - 18 May 2014 in Koyna, India
Workshop Proposal 2 Approved
Workshop 1 Held
21 - 25 March 2011 in Koyna, India
Workshop Proposal 1 Approved
Preliminary Proposal Submitted