Drilling the Ivrea-Verbano zonE
Project Acronym: DIVE | State: Operational Phase | Expedition ID: 5071
Preparing a full drilling of the continental lower crust into the Moho transition zone in the Ivrea-Verbano Zone (IVZ) in the Southern Alps in Italy. The IVZ provides a unique and continuous set of geochemical, structural, and geophysical data on the nature of the continental lower crust and the crust-mantle transition, the construction and organisation of a deep crustal magmatic system, and the physical conditions (i.e. magma fluxes, magma/country rock rheology, density, seismic velocities). Drilling will additionally investigate heat production and distribution of heat producing elements across a continuous, finely banded sequence of lower crustal rocks, major pre-Alpine and Alpine crustal shear zones, present-day alteration processes, fluid compositions, and its relationships to the major orogenic fault structure of the Alps, the Insubric Line.
Keywords: Europe, Italy, continental crust, Moho transition zone, seismic structure, rock physics
DIVE has completed logging
19 Dec 2022
MoD: DIVE has completed logging and cleared the science part of site 5071_1B by Sunday December 18th. It then required a local heavyweight roadshow to pick up a single GFZ-container today. The entertainment was free of charge for innocent observers. The borehole will be properly sealed for the coming weeks, until site restoration early next year.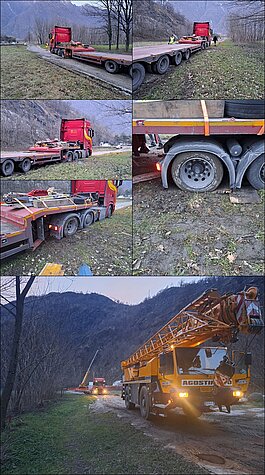 Last Logging Campaign at Drillsite 1B
15-Dec-2022
Logging and blogging. These are the remaining two activities at site 5071_1_B. The borehole is now fully accessible and logging has started, with the plan to finish all the program by Sunday, with active participation of GFZ/OSG, MU Leoben, Uni Lausanne, and several other university partners.
DIVE has completed logging

Last Logging Campaign at Drillsite 1B

MoD

MoD

MoD

MoD
Previous
Next
Drilling
First core on deck on 6 October 2022
First Full Proposal Submitted
Workshop Held
1-5 May 2017 in Bevano, Italy
Workshop Proposal Approved