Societal Challenges
Climate &

Ecosystems

Sustainable

Georesources

Natural

Hazards
Oman DP sampling party onboard DV Chikyu completed!
Phase 2 teams exchange Read more...
DSEIS Post Drilling Workshop
Drilling in deep South African gold mines Read more...
continued from highlight New milestone in Songliao Drilling
SK-II completed its stage IV (216mm diameter) last November at the depth of 5922.58m and after a long winter shutdown, started its final stage V (152mm diameter) on 4th May, 2017.
As at the hole bottom, the temperature rises to 205 Celsius, and the ground stress releases, a strong collapse occurred at the barefoot interval beneath the casing pipe, which is the most serious and complex accident since SK-II starts. After many ineffective attempts to recover the borehole, and the collapse has become increasingly serious. The command decides to inject cement into the borehole for wall stabilization. Since there is no experience for well cementation in this high temperature in China, the well cementing team has made a lot of experiments and field preparation, and finally succeeded in stabilizing the wall.
On 12th Aug, the stage IV (152mm diameter) started from 5932m, and reached the new milestone 6326m on 23th October.
A key interface of the sedimentary rock and volcanic rock of Huoshiling Formation is completely cored. At the moment, SK-II is drilling its deepest and most difficult interval, which is a great challenge for the coring and drilling fluid technology as the super high temperature and pressure environment. Songliao Team will forge ahead and make further progress towards the ultimate goal depth of 6400m.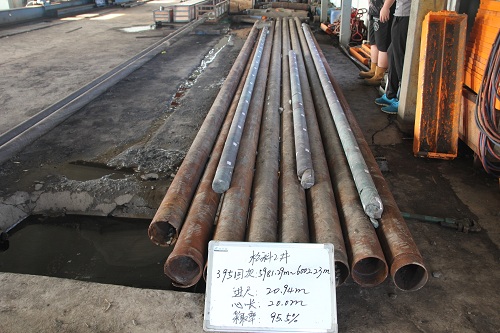 Twenty-meter-long core tripping out from 5981.29 to 6002.23m